Sustainability Recognition
When it comes to sustainability, companies need to be transparent about their impacts on people and the environment, what they're doing to minimize those impacts, and how their business helps others do the same. The sustainability indexes you see here are external validation that we're making progress, and we're sharing our results with the world.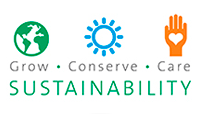 Air Products has been recognized by Time magazine on its inaugural list of the World's Best Companies 2023. Time and Statista ranked companies based on a formula of revenue growth, employee-satisfaction surveys, and rigorous environmental, social and corporate governance data.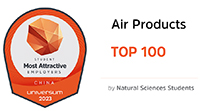 Air Products has been voted one of China's Top 100 Most Attractive Employers for 2023 by university students majoring in natural sciences. For the 11th year in a row, the company has made the list in a large-scale annual global talent survey organized by Universum, a leading company specializing in employer branding.
tell me more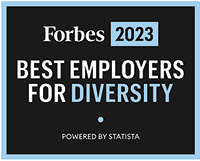 Air Products was named one of America's Best Employers for Diversity for 2023 by Forbes magazine. Moving up from 17th in 2022 to number four in the annual overall rankings, Air Products is ranked as the top company in the construction, oil and gas operations, mining and chemicals industry group.
tell me more
Air Products has also been recognized as one of America's Best Employers for Women 2023 by Forbes magazine. In addition to inclusion on the overall list, Air Products was ranked second in the construction, oil and gas operations, mining and chemicals industry group.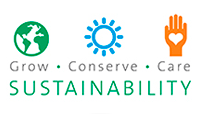 For the 5th year in a row, and the 11th time overall, Air Products has earned a spot in the 2023 S&P Global Sustainability Yearbook, one of the world's most comprehensive publications providing in-depth analysis on corporate responsibility. To earn a spot in the Yearbook, a company must rank within the top 15 percent of companies in its industry and must achieve an S&P Global Sustainability Score within 30 percent of the industry's top-performing company.
tell me more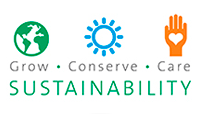 Air Products earned a spot on Barron's 100 Most Sustainable Companies List for the fifth consecutive year. The company ranks 46th on Barron's most recent list.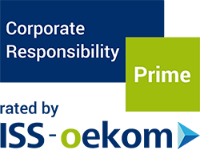 Air Products was recognized as a top performer in the global corporate universe by ISS-oekom with a distinction of Prime status for our corporate sustainability practices and policies.
tell me more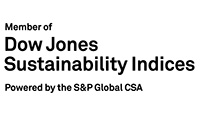 Air Products earned a place on the Dow Jones Sustainability North America Index for the 13th consecutive year. The 2022 DJSI places Air Products in the top 20 percent of North American companies in its industry group based on long-term economic, environmental and social criteria.
tell me more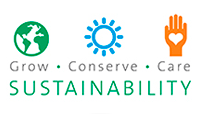 Air Products has been named to the 100 Best Corporate Citizens of 2021 list, published by 3BL Media, for the tenth consecutive year.
tell me more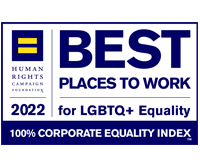 For the sixth consecutive year, we have earned a perfect score on the Human Rights Campaign Foundation's 2022 Corporate Equality Index, the nation's foremost benchmarking survey and report measuring corporate policies and practices related to LGBTQ+ workplace equality.
tell me more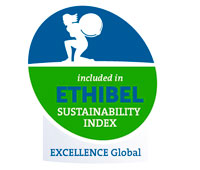 Air Products has been reconfirmed as a constituent of the Ethibel Sustainability Index (ESI) Excellence Global.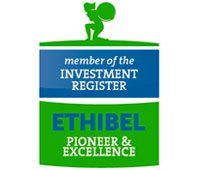 Air Products and Chemicals Inc. has been reconfirmed for inclusion in the Ethibel Pioneer and Ethibel Excellence Investment Registers.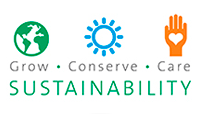 Air Products has again been named to
Newsweek
's list of America's Most Responsible Companies 2023, a ranking based on environmental, social and governance (ESG) factors.
tell me more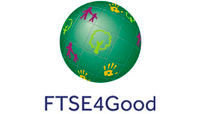 FTSE Russell (the trading name of FTSE International Limited and Frank Russell Company) confirms that Air Products and Chemicals has been independently assessed according to the FTSE4Good criteria, and has satisfied the requirements to become a constituent of the FTSE4Good Index Series. Created by the global index provider FTSE Russell, the FTSE4Good Index Series is designed to measure the performance of companies demonstrating strong Environmental, Social and Governance (ESG) practices. The FTSE4Good indices are used by a wide variety of market participants to create and assess responsible investment funds and other products.
tell me more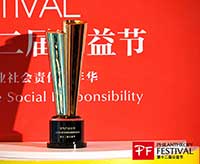 At the 12th China Philanthropy Festival, Air Products won the prestigious Sustainability Role Model Award 2022 for its outstanding contributions to corporate social responsibility (CSR) and China's sustainable development. This marks the eighth consecutive year the company has been recognized at this influential event.
tell me more